I've been following the real estate market in downtown Kalamazoo for over 10 years, measuring the vacancy levels in March by surveying property owners and visually inspecting properties. While some may disagree with one aspect or another of my methodology, I use consistent standards so that we can track the trends over time. This consistency is what makes it a useful study.
Office
For several years, the office vacancy rate appeared to hold steady at a relatively healthy 10%. In reality, the rate was low due to  the removal of office space from the study rather than by absorption of office space by new businesses. As we add office space, the vacancy rate grows.
Major changes:
The Exchange added approximately 55,000 square feet of office space to the market.
Over 100,000 square feet of office space was converted to residential since 2017.
Roughly 27,000 square feet of office space was demolished in 2020 to make way for other projects or parking.
Another 84,000 square feet of vacant space was removed from the study in 2018 when Bronson purchased the Gazette building. This study does not include institutional properties.
The Foundry added 46,000 square feet to the study. While the building is full, several of the tenants relocated from other downtown properties, leaving vacancies in their wake.
Key learnings:
Smaller office suites are faring better than larger suites.
Large format office space accounts for nearly half of the office vacancy total.
Over half of the office vacancy is in just six buildings.
According to informal surveys, parking and the perception of safety continue to be the primary barriers for businesses relocating into downtown Kalamazoo.
Absorption in recent years primarily came from new and expanding nonprofits rather than from suburban businesses moving into downtown.
Upcoming changes:
Roughly 20,000 square feet in new office vacancy will be created as tenants relocate to the new Catalyst building on Lot 9 in 2021.
Hospice Care of Southwest Michigan is moving its offices to Oshtemo, which will add roughly 16,000 square feet of vacant office.
Companies were already using desk hoteling and coworking to reduce their office footprint. The pandemic will likely accelerate this trend. Look for changes as office leases expire, especially for those larger companies who have invested in the resources to take their employees remote.
Retail
In this study, retail includes retail shops, salons, and restaurants but not banks or ground-level offices. A large chunk of downtown's retail space is along the Kalamazoo Mall, which currently has a vacancy rate about three percentage points higher than the remainder of downtown. This stretch of retail is an emotional barometer of downtown's health; if it does not rebound, it could affect the demand for office and residential space.
Key learnings:
Despite several smaller (and exciting) new retail tenants, the vacancy rate increased after a few years of maintaining an acceptable 10% vacancy.
The Mall vacancy rate is 16.3% vs 12.6% for the entire downtown market.
Notable loses in recent years include The Union & CityScape Events Center and both of Adam Renaud's restaurant concepts: Casa Bolero and Fandango.
The Exchange added over 10,000 square feet of retail space, most of which is yet to be filled.
While restaurants seem to be at a high risk of closure, some potential new ventures are waiting in the wings for the right opportunity. Read: we may get some exciting new restaurants, but there will be a cost.
One major footnote: if we include the AMC movie theater in the mix, the vacancy is 20%. Feel free to contact me to talk about my reasoning for excluding this property.
Residential
After years of minimal vacancy, the demand for apartments softened 2020. This seems to be partially due to the amenities of the newer apartment buildings, as renters seem willing to pay the increased cost of having skyline views, community spaces, and workout rooms.
The riots in 2020 and the closure of restaurants during the pandemic also affected the demand. As we return to some sense of normalcy, some tenants may return.
Key learnings:
The market added 280 new residential units in 2020 with The Exchange, 400 Rose, and the Michigan Building. That's a 41% increase in the number of units over 2019.
This resulted in some softening in demand for existing apartments.
To maintain occupancy levels, some property owners of existing apartments reduced asking rates or offered more flexible terms.
Upcoming Changes:
Hollander and NoMi are building units with below-market rates on the periphery of downtown. These tenants are likely to patronize downtown restaurants and add vitality to the urban core.
We will see 150 new residential units downtown in the next year or so, and even more on the periphery. This will again test the market for downtown housing.
Conclusion
Residential development has buffeted the vacancy rate in downtown Kalamazoo. Without it, the office vacancy rate would be three to four percentage points higher.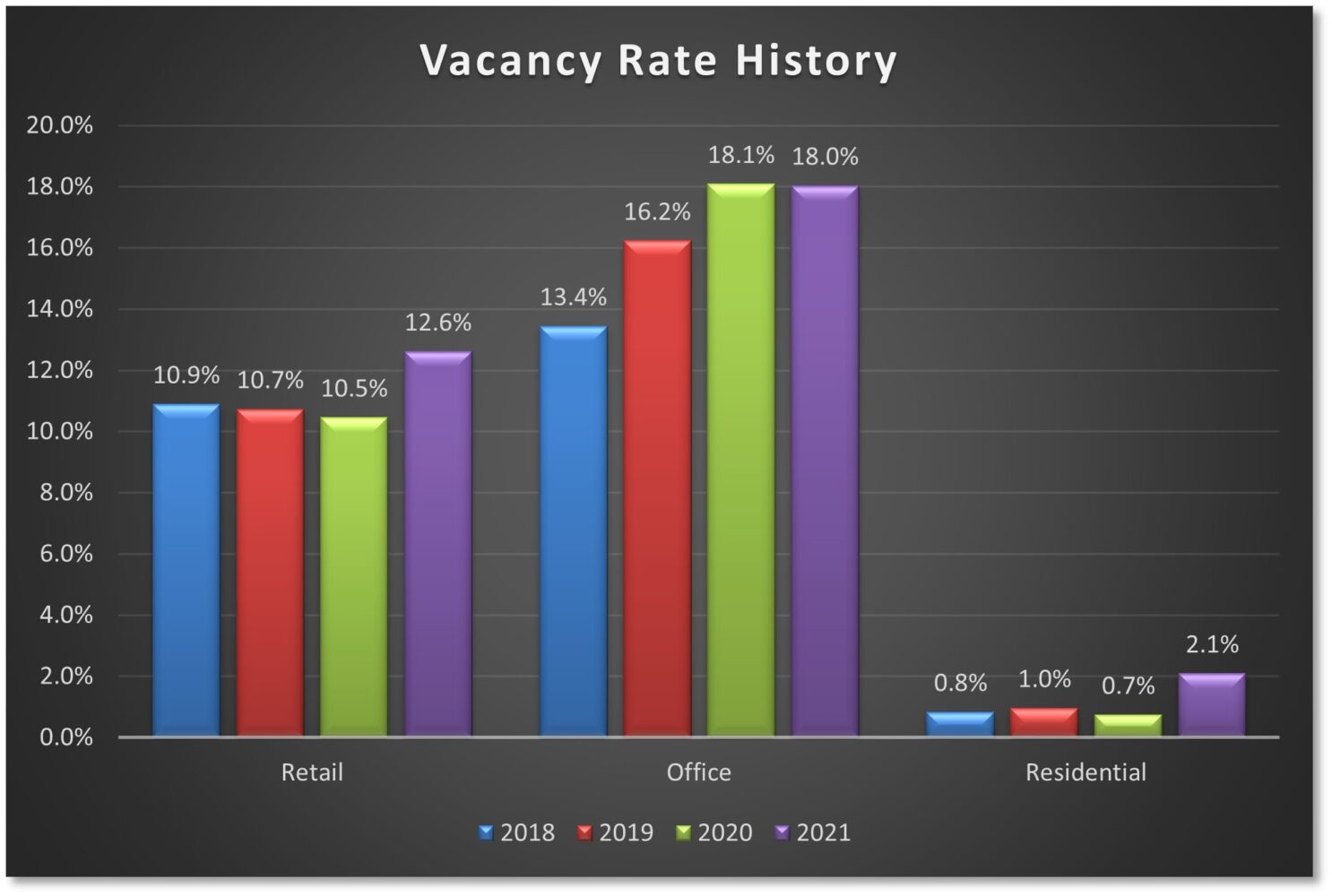 While residential development is vital to creating a 24/7 downtown, we can't ignore the importance of the office and retail sectors.
Despite the pandemic, we should stay vigilant in our efforts to recruit and retain businesses in our central city, with special attention given to supporting entrepreneurs and growing second-stage companies. As any HR director will tell you, a vibrant downtown continues to be key to a strong regional economy.